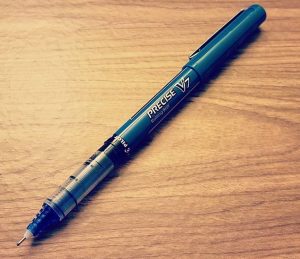 Inspired by Sunita's post, and having sat on the idea of doing my own productivity post, I decided to take up the challenge. Today I'm just going to talk about the most important piece of my productivity regimen.
The Vomit Book
My productivity keeper is a notebook. Not a simple one because why use a 20c spiral notebook I can get at Walmart during back-to-school month when I can get an expensive, hard-to-find notebook such as TOPS Journal Notetaking Planner (TOP63827)? It's a version of the Cornell notetaking system.
Why do I call it my vomit book? Because I vomit the contents of my brain all over it. The single most productive thing I do is vomit my brain all over the pages of my notebook. I cannot describe how mentally jumbled I get and what a short period of time it takes, and I cannot overstate how much more productive I become once I've spent an hour (or 2 or 3) vomiting my jumbled thoughts.
I have depression and anxiety, and I am ADHD and bipolar. My mother was pretty regulated, so she became my coping mechanism growing up without drugs. I am not nearly that regulated (or more likely, what was important to her is not important to me). But the coping mechanisms I developed during my childhood and adolescence, thanks to my mom, got me limping through early adulthood before I found better living through chemistry.
I say this only to illustrate the most extreme of my vomiting: One day, I was so jumbled, I wrote "angry" over and over and over again. Two pages front and back. That was necessary so I could begin to put into words what I was angry about. That journaling session lasted nearly 4 hours, but it was 4 hours well spent.
I don't vomit every day. I do it when my brain is too full, which could be every day or it could be every week or it could be six months from now.
I do use it for lists. In that period when I was so angry I had to write down my morning routine in a list (though it never changes): get up, shower, brush teeth, get breakfast, take meds. During that time, I also struggled with the everyday things like…making a doctor's appointment.
I had to write down the list: pick up phone, dial the number, ask for an appointment, check the calendar, commit to the appointment. I tried twice to make the appointment, hung up when I got voice mail because the expected thing hadn't happened, and THEN I changed my list: pick up phone, dial the number, select the right key to go to voice mail, leave a message. And yes, I had to write the message down and read it.
I realize now this was anxiety, for which I am now medicated. But that vomit book got me through some rough times. The rough times might change, but the vomit book is there for when I need to puke up a new pen's worth of ink.