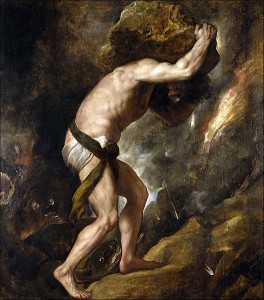 We are Sisyphus.
But the truth is that I am just really tired. Perhaps the vacuum in affect attested to by the accumulation of emoticons and emojis has little to do with the flattening effect of digital communication. Maybe feelings are simply exhausted.
For those of you who've read The Proviso, you know that a company gets restructured. I had some certain goals with the re-edit of it. One of the things my characters did was to block email at the server level between the hours of 6pm and 9am and on the weekends. (No, I didn't know about the French ban on email when I rewrote the section.) I don't really know if that would help, to be honest.
I'm a productive person, but I have to be in the zone. Email bites, but it's the sole source of my income, so I can't flake on it. When I have to do email, I do it all in one shot (hopefully all on the same day). The real problem is with followup …
---
Being, as I am, a complete pussy about heights, this would freak me right the hell out.
---
Just because you're paranoid doesn't mean they're not out to get you.
I did not get a DoJ subpoena, but I did comment in the original thread and many gold-plated bricks were shat. So I've been paying more attention to the fine print of the legalities (which really helps soothe those I-shoulda-gone-to-law-school meltdowns because it's dizzying), and I'm emotionally invested in it.
The original post that got the "Woodchipper 6" (as the Reason commentariate now calls them), was about the Dread Pirate Roberts/Silk Road decision, handed down by Justice Katherine Forrest, who has such a raging hateboner for him that she sentenced him to life in prison, which was more than the prosecutors asked for. Judge Forrest:
"The stated purpose [of the Silk Road] was to be beyond the law. In the world you created over time, democracy didn't exist. You were captain of the ship, the Dread Pirate Roberts," she told Ulbricht as she read the sentence, referring to his pseudonym as the Silk Road's leader. "Silk Road's birth and presence asserted that its…creator was better than the laws of this country. This is deeply troubling, terribly misguided, and very dangerous."
She says that like it's a bad thing. And now we know what happens to smart-mouthed kids who diss a judge who sends people to life imprisonment because they got a little uppity*. This country was founded by malcontents who would have been hanged for their "crimes." #TeamWoodchipper
---
*So speaking of uppity: School Won't Let 4.3 GPA Student Give Valedictorian Speech, Made Him Take Psych Eval Instead. And then they doubled down. Bastards.
I really hate it when my kid gets uppity, but he's 9, and I'm trying to teach him there is a time and a place and a compelling purpose for uppitiness. Random uppitiness serves no purpose. This kid was far from random and I feel for him.
---
And now, I bring to you the obligatory pot-and-prostitutes report (pot not included with purchase, sorry): Kaytlin Bailey is a former sex worker, now a stand up comic, with a story to tell.
[sendtokindle]