Sold my car today. The ad is gone now, but it generated lots of interest, and some people said they'd buy it just because of the ad. Hey, folks! Buy my books if you want better stories! Behold Granny:

---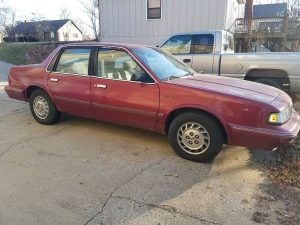 Let me introduce you to Granny. Yes, she IS your granddad's Oldsmobile. She looks like she's been rode hard and put away wet, and, like any cranky old lady, she has her issues and she needs a bath (I'll clean her up before you arrive), but relatively speaking, for a 23-year-old car, she's awesome.
PROs:
• 3.8-liter V6, thus much get-up-and-go
• only 174,000 miles
• dependable
• newish brakes <6 months
• newish tires <18 months
• lots of trunk room
• roomy interior
• quiet
• state-of-the-art cassette player
• clean title
• cheap to insure
• good gas mileage for tooling around, great gas mileage for road tripping
• runs cool
• great heater and defroster (the defroster squeals)
• back window defrost
• front-wheel drive
• GREAT SNOW CAR!!!
• power windows
• headliner has been replaced
CONS:
• NO AIR CONDITIONING!!! (Now, look. That went out 10 years ago and I thought, "Not gonna spend a ton of money because she's old and it's only unbearably hot 3 months out of the year" [you'd think I'd learned after spending only 51 years here]. But if I'd gotten that done then, it would have amortized out at $70 year.)
• buzzing speakers
• fuel door spring is sprung (XY tax deduction did it), so it's taped shut with clear packing tape (and I will throw in the roll of tape and dispenser for free!)
• front passenger window is off its track
• front passenger floor gets wet when it rains hard because of the above issue
• front passenger door is difficult to open from the outside
• driver's door power panel fell off and is now Gorilla-glued together
• driver's door handle (inside) has been replaced (by me) (not well)
• ashtray drawer is sprung (XY did that too)
• cigarette lighter plug doesn't work
• back windows go down only half way (stupid child "safety" features)
• horn only works at 2:17 p.m. the third Sunday of May, August, November if you hold your mouth right
• shifter indicator doesn't land in the right spot (i.e., you're in D but it says N)
• various dents and dings and scratches (the poor teenage girl who hit me was very happy when I told her to forget about it and go about her merry business—she still had to explain HER dent to her parents, though)
• doesn't lock, like, at all (but … would you really care?)
• she looks like shit and she needs a bath
I am Granny's 3rd owner. I have been driving her for 20 years, 16 of which I worked at home. When I stopped having to drive to a job, she had about 150,000 miles. She now has 174,000 miles. 25,000 miles. 16 years. Do the math.
She once did a straight-through round trip from Kansas City to Twin Falls, Idaho in 4 days. That was an adventure, let me tell you, but I got a husband out of it.
I believe that was the second or third cross-country trip she's made, but it's been 20 years. Why do you expect me to remember everything?!
My point: She can take mountain passes like a champ and yes, I'd trust her to road trip now, but husband says no.
Now, far be it from me to tell you why you need to buy my beloved Granny car, but she is a steal at $500. If I were a frugal young stay-at-home mom and needed a second car for doctor visits and grocery shopping and whatnot, Granny would be perfect. After all, she's just been tooling around the metro a couple of times a week for the last 16 years.
I love her, but my husband is making me get rid of her. Now we have 3 cars and a truck for 2 drivers and he just doesn't love Granny the way I love Granny. He says he doesn't want to pay the pittance in insurance and license/registration for her anymore. Also, my neighbors give me the side-eye, but they've only been doing that for 14 years. Also also, my tax deductions are embarrassed that I pick them up in it. Fine. Walk home.
You must understand. I adore my Granny car. I would keep her and drive her until the wheels fell off (not likely, since they're practically new), but it is time to let her go bless a family who needs a cheap ride with only minor problems (so far as I know). I'm only asking $500, which hurts because to me she is priceless.
If you take her home, you must promise me you will not change her name. Her name is Granny. And I love her. Maybe you will too.