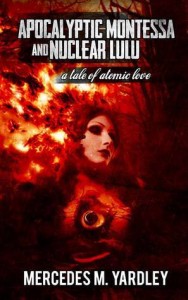 Title: APOCALYPTIC MONTESSA AND NUCLEAR LULU: A TALE OF ATOMIC LOVE
Author: Mercedes M. Yardley
Publisher: Ragnarok Publications
Genre: Horror
Year Published: 2014
Number of Pages: 175
Format(s) Available: ebook, paperback, audiobook
Amazon Kindle ASIN: B00HWMK298
Reviewed by miztrniceguy aka Dude*
Originally posted on Amazon
burn baby, burn!
This story is very dark and twisted, but at the same time it's a sweet love story. I was surprised at the tenderness between Lulu and Montessa. I was hoping for a different ending and was surprised by it.
This is my first book I have read by Mercedes Murdock Yardley, but won't be the last.
*Note: miztrniceguy aka Dude is the guy Moriah sleeps with. He reads a lot of books, but has only lately gotten into the reviewing game because he started hanging out with Moriah's writerly type friends who aren't quite as storied as Stephen King.