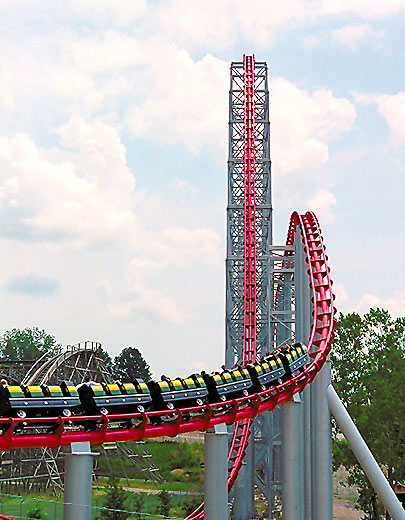 A friend wrote something on her Book of Faces, and instead of taking up all her comment space, I thought I'd put it here. I felt impressed to say a couple of words, but then it went into many words and then paragraphs. OMG I take a lot of words to say a thing.
At some point in my life's ride, I stopped thinking, planning, wishing, and dreaming and got on the rollercoaster and went for the ride to see where it went and deal with the fallout later. I did a bizarre, outlandish thing. I wasn't afraid because I wasn't thinking. I was moving too fast to think anyway, too fast to second-guess myself. That thing I did got me exactly what I'd been looking for. But the rollercoaster ride was twisty and … fun. It was a grand adventure, really. That was 14 years ago.1
Then this summer, I got on a real rollercoaster for the first time in 25 years.2 I didn't really want to. I don't like rollercoasters. But Dude and XX Tax Deduction wanted to ride it so there I was with XY Tax Deduction who really didn't want to ride it and after the first drop, it was wonderful. Well, I rode it a few other times and the last time I rode it, I didn't have the lap bar down quite as tight, so I wasn't completely pressed into my seat. And on the first hill and drop, I floated above the seat just an inch or whatever, but it was a fucking grand epiphany.3
Nobody ever told me that the secret to riding rollercoasters is to keep the lapbar just a tidge loose so you can let go and float over the hill and drop.
I have very rarely felt such an intense joy in my life as I did that moment I floated over the drop because my lapbar made it possible for me to let go and physics did the rest.
---
Met a guy online. Married him 6 months later. Had a kid 9 months after that. My only complaint is that we were stupid about buying a house. ↩
The Mamba at Worlds of Fun. ↩
The Zulu, now? I won't even go into what the Zulu does to me, le sigh, but I ride it as much as I possibly can and then collapse on a bench in a glorious languor when it's worn me out. ↩