Kansas City North refers to anything north of the curve in the Missouri River. Glen River, where Justice lives (which is, in real life, Dearborn) is far north of Platte City. Chouteau City (which is, in real life, Platte City), is just outside the Kansas City city limits in Chouteau County (which is, in reality, Platte County).
Knox lives just off I-29, not too far northeast of Eilis and a couple miles south of HR Prerogatives, but within the Kansas City city limits. Chouteau Woods, where Eilis lives, is a teensy little municipality consisting of about two streets (and it is, in reality, Platte Woods).
Now let's go "south of the river" to Kansas City proper:
Kansas City is enormous and, like most cities, sectioned off by regions and neighborhoods. The major ones, north to south, are River Market, downtown, Crown Center, midtown, Country Club Plaza, Brookside, Waldo.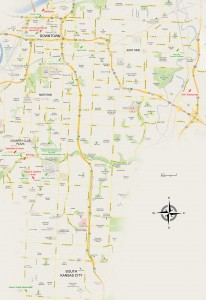 River Market is where Giselle's bookstore was, along with her partners Coco and Maisy with their patisserie and chocolaterie, respectively. It's also where Sebastian brings Eilis to get fresh spices for her new diet. Then we head south over I-35 and run right into Bryce's offices and the Jackson County Courthouse in Kansas City (there's also one in Independence—yes, two county seats). And we can't forget the Lyric Theater, where Justice gets her first kiss.
River Market and Downtown
Planter's Seed & Spice Company
513 Walnut Street
Kansas City, MO 64106
(816) 842-3651
Lyric Theater
1029 Central
Kansas City, MO 64105
Going east from downtown, there is the Jazz District, then the northeast side, where Eilis grew up, and the east side, where Sebastian and Giselle grew up. Continuing east and bearing south is Raytown, where OKH Enterprises is located.
Jazz District
Arthur Bryant's Barbecue
Facebook
1727 Brooklyn Avenue
Kansas City, MO 64127
(816) 231-1123
Peter May House of Kielbasa
1654 Bristol Avenue
Kansas City, MO 64126
(816) 231-9850
Union Station is in the Crown Center district. Justice and Knox have their bells'n'whistles wedding there under the clock, facing the balcony (where the choir of Justice's faith plays the recessional).
Half of the story takes place on the Country Club Plaza and in the Brookside neighborhood. Even though the Plaza and surrounds are gorgeous in the spring, summer, and fall, it's when the lights are turned on for the Christmas season that it becomes ethereal. Many of the images below are by Eric Bowers, a photographer who loves Kansas City as much as I do.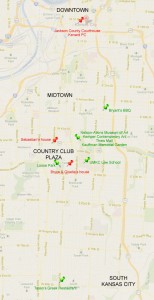 Country Club Plaza
Facebook
4745 Central
Kansas City, MO 64112
(816) 753-0100
Richard & Annette Bloch Cancer Survivor's Park
47th Street & Roanoke Parkway
Kansas City, MO 64110
Plaza III: The Steakhouse
4749 Pennsylvania
Kansas City, MO 64112
(816) 753-0000
Then there are the galleries, the parks, and the university, where Giselle and Bryce spend a lot of time dancing around each other.
Nelson-Atkins Museum of Art
Facebook
4525 Oak Street
Kansas City, MO 64111
(816) 751-1278
Kemper Museum of Contemporary Art & Design
4420 Warwick Boulevard
Kansas City, MO 64111
(816) 753-5784
Brush Creek
Theis Park | Facebook
Oak and 47th Streets
Kansas City, MO 64112
Kauffman Legacy Park | Facebook
4801 Rockhill Road
Kansas City, MO 64110
(816) 932-1000
UMKC School Of Law
University of Missouri at Kansas City
5100 Rockhill Road
Kansas City, MO 64110-2499
(816) 235-1644
Bryce lives in Brookside just a few blocks from Loose Park.
Loose Park | Facebook
5200 Wornall
Kansas City, MO 64112
And lastly, just a few other places that are mentioned in the book, but aren't really on our tour.
Tasso's Greek Restaurant
8411 Wornall Road
Kansas City, MO 64114
(816) 363-4776
Tivol
220 Nichols Road
Kansas City, MO 64112
(816) 531-5800
Strawberry Hill Povitica
8609 Quivira Road
Lenexa, KS 66215
(800) 634-1002
20130516